I entered Beth's giveaway at
Food as Art
and WON!!!!! The prize was a Johnson Brothers Old Britain Castles pink platter, courtesy of
CSN Stores
. Isn't it lovely? I can't wait to use it. I have some vintage pink candle sticks I got as a wedding gift over two decades ago that will go perfectly with it. Once I get the platter I'll take a picture of them together so you can see for yourself.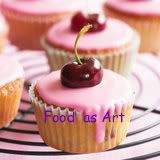 If you haven't visited
Food as Art
it is a lovely blog with delicious recipes and lovely table settings, complete with floral arrangements. I am looking forward to trying the Chocolate Chip-Toffee Scones she served for tea. Beth also Blogs at
Beyond the Garden Gate
, which is where I first met her.
Today was spent outside weeding the bulb bed. (Sigh) I had just finished weeding around my
Tiger Lilies
when Hubby accidentally mowed them down with the weedeater. So I spent a lot of time weeding around them for nothing. I have my fingers crossed they will come back up but I think it is too late in the season.